This is a dream to complete phase one for 2020, when we host Army at McGuirk.
Everything is done in phases. Don't know the cost of phase one but there is a huge difference between phase one and the completed 62M JMU expansion.
Let's focus on getting our Phase One done similar to JMU Phase I. Yes doing phase one in our case may reduce the number of seats, but that could be made up for with end zone seats and the structure needed to hang the Video board on. This is not about McGuirk expansion, but improving the fan experience! It will lay the foundation when expansion happens and a phase two and three could be justified with additional funding from new conference revenue. Phase one is on all of us (not one donor or state funding) and improving the fan experience!
One thousand fans pledging $500 a year for five years is 2.5M. We will need help and we need to have collective goal. Not sure how JMU did it but think they must of gotten a portion from increased student athletic fees. Perhaps a $80 increase in athletic fees will bring in 2M every year.
Before
Completed:
architect:
https://www.moseleyarchitects.com/highe ... h-stadium/
This is phase I <------------<<<
completed: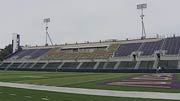 Article :
http://www.nbc29.com/story/13009074/jmu ... -expansion
The first phase of James Madison University's $62 million expansion of Bridgeforth Stadium is nearly finished ahead of the football season home-opener on September 4. JMU invited chamber of commerce members from Augusta County and Harrisonburg to take an insider's tour of the halfway-expanded stadium Wednesday night.

Megan Argenbright, a JMU alum, was among the first to see the changes that other fans will see in a few weeks.

"They're just going to be blown away," she said.

Demolition crews tore down the westside grandstands at the end of the 2009 football season. That has all been rebuilt. The Dukes will open the 2010 season with new bleachers, a club section made up of gold-painted seats, additional bathrooms, and room to fit several hundred additional fans.

"All the seats in the stadium, there's much more room between the aisles," said JMU Director of Athletics Jeff Bourne. "It's just more customer-friendly."

Construction will pause while the team plays its season in Bridgeforth. Then, phase two of the expansion begins. A suite level, top-tier deck of bleachers, and a new press box will rise to a total of 13-stories high. The finished Bridgeforth will increase capacity from 15,000 fans now, to 25,000 for the start of the 2011 football season.